About Really Old Rocks

Really Old Rocks was born from the passion of the outdoor adventures and explorations of it's owner Bob Scholl.
From my earliest years I've been attracted to nature and found my escapes from suburban life in Connecticut out fishing and exploring the few patches of woods left in my home state. In 1983 I fled the east coast for a new life in the Rockies, beginning at the University of Montana in Missoula.
Though the dream of being a fisheries biologist face planted in a haze of calculus, my love for the West was fully in place. The following 12 years can best be summed up with Missoula's slogan – "A quaint beer drinking town with a fly-fishing problem". With the final two years trying to make a living as a fly fishing guide, teaching me there were smarter ways to make a buck.
Wyoming entered my life in 1995 with a job back in the newspaper business as advertising director for the Lander Journal in the remote frontier town of Lander, Wyoming. Here was a whole new definition of the Wild Rockies. Few people, thousands of square miles of public lands to explore, fish, hunt, rockhound and roam ranging from mountains to deserts. In the spring of 1997 I was hired by my good friend Scott Woodruff of the Lander Llama Company as a back country guide for his wilderness packing business.
Summers in the absolute beauty of the Wind River Mountains stretching into the Red Desert and the rest of the year as a graphic/website designer in the remote "Hometown America" of community minded and bonded Lander was a memorable time for many years. A person could spend a few lifetimes exploring the remote areas of Fremont and surrounding counties without seeing it all. I can say I've seen more than most 😉
After a series of life events starting in 2005 I returned to Lander in 2009 to resume exploring the "out there" areas all the tourists speed past with blinders on as they focus their journey on getting to Yellowstone. As most who have lived in Lander know, it's a place that draws you back time and and time again.
In early August of that year I was bit by a mosquito infected with West Nile Virus. Two days later I was laying in bed drenched in sweat feeling the greatest pain I have ever felt as West Nile Virus tore through me. It was during one of these many delusion sweats over the next 7 days when I had a dream of finding a field of jade in Wyoming.
Until that dream, Wyoming jade was just a stone I had heard the locals talk about and there was "no more" to find. The jade journey began as my body and mind slowly started to heal. This journey was kick started by the book "Wyoming Jade – A Pioneer Hunters Story" by Allan Branham given to me by Dave Freitag. His words were along the lines of, "Bob you should read this it might change your life." You were correct Dave, it has, thanks!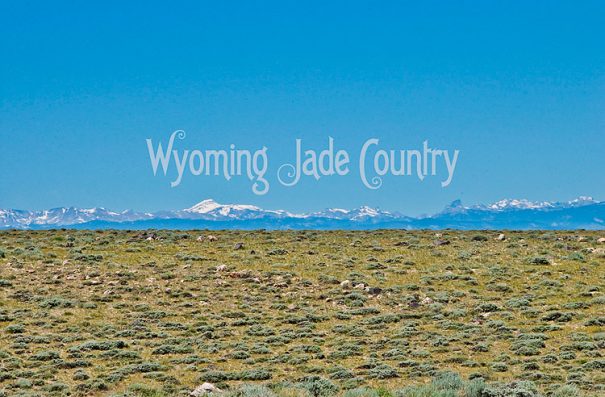 With the trust of Ken Rhoads and his family I headed out to Tucson in January of 2010 with a small, but valuable cargo of apple green Wyoming jade in my pickup. I had heard about the winter gem and rock shows in Tucson for years, now I was making it happen, living out of my truck on a new adventure, still trying to shake off the lingering effects of WNV.
The Tucson shows were more than I could have imagined, I had found my lost tribe, thousands of people all into rocks and the earth. A fortuitous meeting with David Fredrick who was having a jade show in Tucson opened my initial door into the national and international jade world. From there the jade and gem doors have just kept opening on this new journey of a lifetime. I am grateful to all my jade friends around the world for the help, guidance and knowledge you have gifted me along this new path in life.
One of the amazing stones I came across on my journey was a wind sculpted banded iron formation. It's naturally polished and ventifacted surface was my main attraction to the stone. My good friend and psychic/healer Paul Simons informed me of the meta-physical properties including a strong grounding effect. Over the past seven years customers across the country and world have let me know the stone has a similar effect on them. It gives me great satisfaction to know in one small way I have helped thousands of people around the world feel better.
This banded iron formation was the catalyst for the name of my business. I was searching for a website domain name for BIF formation and all the names I wanted were taken. Damn, why are all these domains taken, it's just a really old rock almost no one knows about. At that moment the light bulb went on and I had my name. 2 billion years definitely qualifies for really old 😉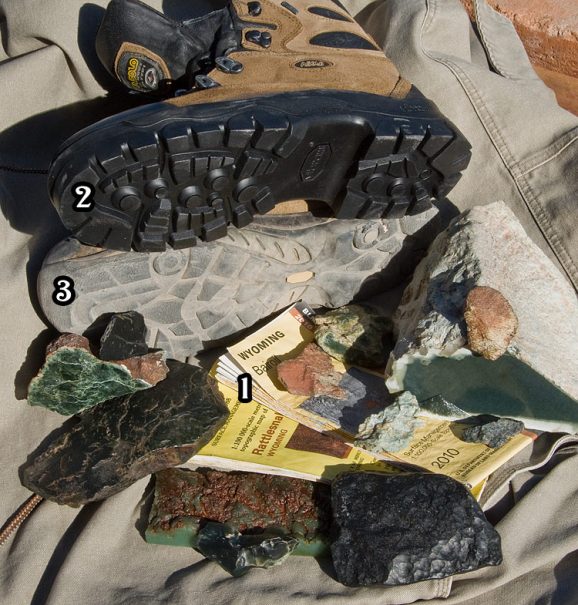 I am often asked where one can find "Wild" Nephrite Jade in Wyoming. So I've put together this free and easy 3-step guide. How to find Nephrite Jade in Wyoming.
1. Get BLM land ownership maps covering areas of Beaver Rim to Casper to Red Desert.
2. Get new tread or boots and start walking.
3. By the time your tread looks like this you will have likely found a few treasures along the way, often where you least expected.
And always remember you're only one glance away from retirement.
2018 marks the 4th year for my summer jade and gem expeditions in Wyoming. The past three summers of explorations, living out on the Wyoming range, have laid the foundation for what will be a banner year. The puzzle and riddle of Wyoming's jade country has never been fully pieced together and the ongoing field research I'm doing will hopefully fill in some of the missing pieces.
Thanks to all my friends and customers who have helped keep my jade and gem journey alive. Your friendship and business are most appreciated and with your continued help and support I look forward to bringing you more treasure of the earth on this website.
Believe in yourself. Make your dreams reality. Never give up. Laugh, play and have fun along the way – Bob Scholl